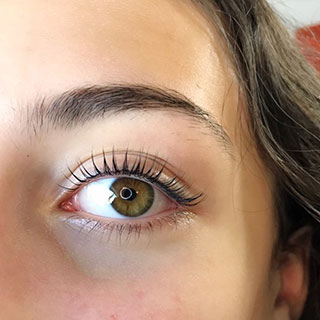 What is lash lift & tint?
Lash Lift : A lash lift is a lash service that semi-permanently curls natural eyelashes to make your lashes looking curlier. The curly eyelash helps your eyes look bigger, more open and pop nicer. Lash lift is an alternative to lash curler, with the exception that it lasts around 5 weeks for most people.
Lash Tint : As it sounds, lash tint simply tint your lashes to the color of your choice, which most likely is black. If you have a naturally black eyelashes, you can go for black-blue color which looks darker than black. For people with lighter lash colors, lash tint along the lash curl will improves the look of the eyes noticeably.
Your eyelids are washed and wiped down by your lash artist. A gel eye patch is placed on your bottom lashes to separate from your upper lashes and keep them away from the perm lotion. A rubber cylinder is placed on your eyelid. This is the base we'll use to curl your lashes around. The lash artist will curls the lashes using the glue over the mold, we separate your lashes individually, so you get a nice curl on the lashes, and we would apply the non-toxic perm solution, that sits on the root of the eyelashes, so the solution is not touching your skin. During the solution waiting time, you do need to keep your eyes closed for the entire process. Once the solution is removed, an oil or conditioning solution is often applied to the lashes. We clean up the lashes and remove the rubber cylinder.
It is a really relaxing, non-invasive treatment and most of our clients take the time to catch up on their beauty sleep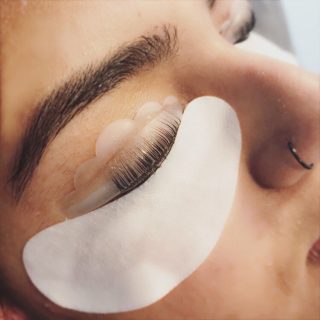 Lash Lift, Tint and Removal
Eyelash Extension Removal Only

Eyelash Consultations & Allergy Check

Men's Eyelash Lift + Tint
Beautiful Lashes, Great Reviews!
Classic it
Classic
Eyelash Extensions
Glamour Diva
Full Set (90+ lashes/eye)
Volume it
Volume
Eyelash Extensions
Volume Barbie
Full Set (250 Lashes/eye)
Lavish Lady
Full Set (350 Lashes/eye)
Miss J Masterpiece
Full Set (500+ Lashes/eye)